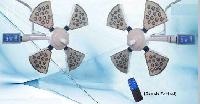 MODEL - HOSPILITE Carina Duo
Light Intensity - 2 x 1,25,000 Lux
Remote Control :
The most powerful breakthrough in the surgical lighting is the LED light, enabling focused, energy efficient, faster and convenient surgical procedures.
LED lighting is 20-60% more efficient than standard lighting technologies, lasting up to ten times longer and providing an instant, controllable source of illumination.
High light output, less power consumption, low heat generation and an extremely long life cycle makes LED lamps environment friendly and are a great indication of their high efficiency, over all other existing light sources.
Moreover, LED's don't generate infrared or UV rays, eliminating the need to filter such harmful rays.
Therefore, LED lighting is now known to provide a more comfortable environment to surgeons, greatly enhancing the surgical team performance.
Features :
*Energy Efficient * Long Life Cycle * High Illumination
* Streamline shape for minimum air resistance
* White homogenous & Shadow free light * IR free light for low heat generation* 
* Multi-lens matrix for optimum backlighting* Focusing through central sterilizable handle * Electric control on the light unit and remote control for ON/OFF and Intensity Control *
All touch controls *Spring Balanced Arm System freely rotatable at all vertical joints
Technical Data HOSPILITE Carina Duo
Light Intensity at 1 mtr. distance - 2 x 1,25,000 Lux
Colour Temperature - 4500 K
Colour rendering index - 95 to 97
Light Intensity Control Variable - 25000 to 125000 Lux
Life of LED - 40000 Hours.
Dimming range - 20-100%
Temp. rise in the area of surgeon head - 1 degree C.
Number of LED's - 48 (Each Dome)